IGB Live is Almost Upon Us!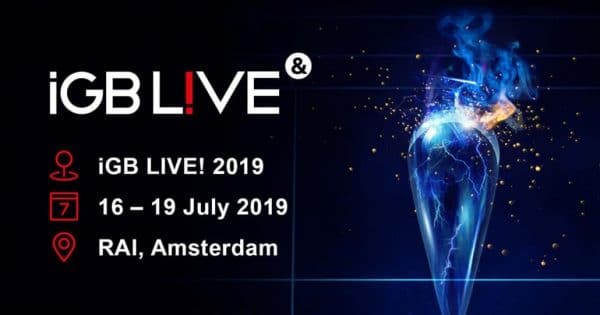 Stylised as iGB L!ve!, which is as funky as it is annoying, aims to unite iGB and iGB affiliate communities with the aim of fuelling new ideas, new creations and of course drive business to all involved.
This year's show takes place in Amsterdam at the RAI Convention Centre across July 16th – 19th and will feature speakers from the Betsson Group, Oddschecker, Virgin Group, Pixel.Bet, Live Nation and more.
iGB Live in 2018 basically came about by amalgamating three events; the iGaming Super Show, EiG and Amsterdam Affiliate Conference. All three came together to form this consolidated event and the show helped to streamline the industry events calendar and provide those involved with a chance to engage with people across the whole spectrum of the iGaming sector.
The 2019 event will aim to build on last year's success. Up to 500 delegates and 50 exhibitors will be available in the hall from 9AM to 6PM each day showing off products from a whole range of areas within the industry, and while this amalgamated event has proven to be popular already, it has not been without its detractors.
Is the Advertising a Little Much?
The artwork for the event for example has been described by some as "over the top", the striking images of a plasma ball and its multiple streams of coloured light breaking out not quite striking a chord with everyone involved.
The official artwork for this year's event has led to a discussion on subliminal advertising and whether or not this works. Such advertising has in fact been banned in Britain since 1957 after a certain advertising genius from the States popped up ads during movies about popcorn and Coca-Cola, too fast for the naked eye to see but which led to sales of the products going up by 18% and 57% respectively.
Studies have shown that subliminal advertising only works for a very short period of time but, when attempting to attract people to an event, this is all the organisers need and so it may well be the perfect tactic for them.
What to Expect
Amsterdam is of course a very colourful place with a varied mix of cultures and pastimes made available to visitors, and while we all agree here that gambling doesn't have to be harmful, to some holding a conference regarding the gambling industry in a city already famous for red light sex windows and cannabis-selling coffee shops could rather put us all in a category we feel we don't belong in.
This year's conference is aiming to bring together the iGaming industry's most creative people. The exhibition will offer visitors countless opportunities to meet up with likeminded people and build networks across the sector.
Delegates will be encouraged to attend networking events and conference sessions that are designed to help build the relationships needed for companies connected to the iGaming and gambling industry's to work together to flourish.
Online sportsbooks and even odds-comparison sites, such as Oddschecker, would be nowhere without the best and safest technology, while the best and most successful SEO-driven online casino brands cannot offer a quality service without great game providers and so these link-ups are not only encouraged, they are desperately needed if the industry is to continue to flourish.