The Top 5 Casino Movies You Must See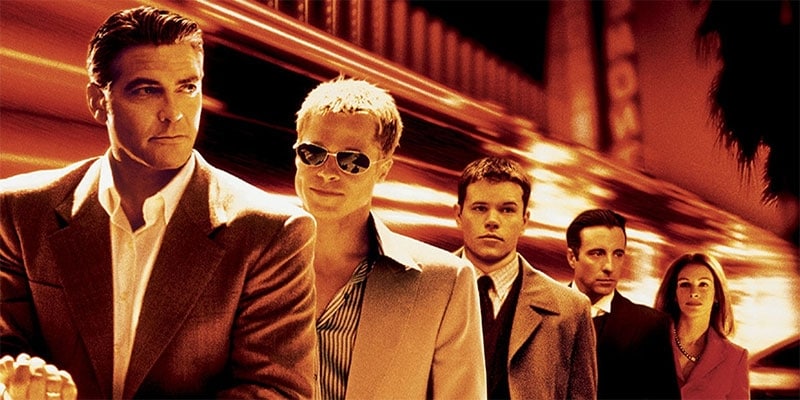 So many people will put themselves in the dual-category of film buff and gambling afficionado so, with that in mind and in no particular order since they're all gold, here are the best five casino movies of all time to get stuck into!
Casino
Martin Scorcese must simply have known! Nothing is needed in the title or description of this film apart from that one word; Casino. This is probably the classic casino-based movie of all time for many players and is directed by one of the all-time greats who is famous for this, Goodfellas, Taxi Driver and of course recent hit, The Irishman.
Robert de Niro stars alongside Sharon Stone and Joe Pesci with the main character being based on Frank Rosenthal (see the Nicolas Pileggi book 'Casino'), but in this case being called Sam "Ace" Rothstein.
There's mob money, lights, noise, death, greed and ultimately, power. Casino was first released back in 1995 but has aged superbly and still ranks as possibly one of the all-time greats, gambling based or not.
Casino Royale
As well as being perfect for gambling loving film watchers, Casino Royale happens to also be Daniel Craig's debut as James Bond and so this is a very important movie for so many reasons.
In the 21st movie in the franchise, Bond is on a mission to stop a major financier of terrorist organisations from winning a huge Texas Hold'em poker tournament.
Featuring the usual gambling-hub backgrounds of Las Vegas and Monte Carlo (Macau will come later in Bond's story), we follow 007's card-playing battle with Le Chiffre as they play for very high stakes in more ways than one.
Ocean's Eleven
Based on the 60's Rat Pack movie of the same name, Ocean's Eleven is another modern classic followed up pretty well by its sequels, Ocean's Twelve and Ocean's Thirteen.
The cast is the main draw here, the film featuring George Clooney, Brad Pitt, Andy Garcia, Julia Roberts, Matt Damon, Don Cheadle, Scott Caan, Casey Affleck and the late Bernie Mac among others but that's just part of its charm.
Danny Ocean (Clooney) intends to pull off the biggest heist in Vegas history with the story directed brilliantly by Steven Soderbergh as he gets his team together to make the robbery happen.
The Hangover
This one is genuine comedy gold. Director Todd Phillips is renowned for his comedy work and he's produced a belter here – watch out for his cameo in the lift by the way!
Zach Galifianakis, Ed Helms, Bradley Cooper and Heather Graham star in a story about three friends who wake up in a Vegas villa with no memory of what happened the night before. Oh, and there's a tiger in the bathroom!
In disregarding the old mob culture and the seriousness of Vegas for some people, The Hangover produces a really fun and enjoyable take on the experience as the three protagonists attempt to find their friend Doug, the whole thing brought together by a brilliant performance from the then-emerging comedy talent of Ken Jeong. Simply unmissable!
Look out for the sequels too; Part II and Part II, the latter of which is terrific.
21
While Bond is oh so dark and casino features a ton of mob-related violence, 21 is for casino lovers who prefer things a little lighter. This is a movie about five college students who, along with their professor, attempt to strike it lucky playing blackjack in Las Vegas by counting cards.
21 is based on a true story with the film centred around a young man named Ben Campbell who is intent on finding the money he needs to go to the school of his dreams.
As well as being a nice story to follow, this movie is important as it depicts the tale of why a lot of casinos began implementing more stringent blackjack rules in the first place, well worth a watch!