Licence Granted to DWG for Real-Money Games Online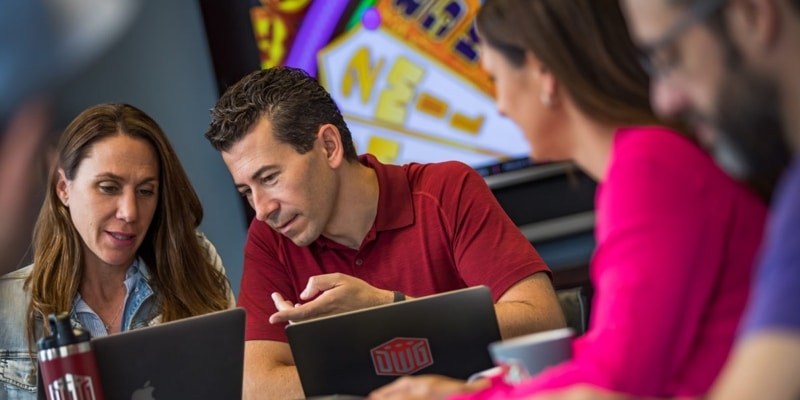 DWG, the Design Works Gaming Group, an already popular games provider, has now been granted its licence to operate in Britain by the Gambling Commission in order to provide real-money online games.
The group, founded back in 2005 by Troy Zurawsku in Arizona, USA, has already gained a strong reputation having provided a lot of land-based content to major suppliers. Thos suppliers include Aristocrat, International Game Technology, Konami and Novomatic among others with this latest move allowing them to make a mark in the online gaming world.
DWG Looking to Increase and Improve Its Casino Content
As well as providing the content above, DWG also operates five of its own free to play casinos, namely Cash River Casino, Diamond Sky Casino, Jade Diamond Casino, Spin Vegas Slots and Super Scratcher Casino. All of these entities offer proprietary content.
Andy Harris is chief executive of the arm of the organisation on this side of the pond, DWG UK, and he has of course warmly welcomed the new licence.
Harris has expressed his delight and having been granted permission to operate in Britain as he feels it marks a very important milestone in the development of DWG as an international provider of casino content and we'll surely be hearing much more from them in years to come.
Now that DWG has gained this licence from the Gambling Commission, they say we can expect new commercial agreements with various operators to be signed and announced in the coming weeks and months.
Harris has stressed that he feels being licenced by the regulatory body in Britain could be only the beginning of a very exciting period for the firm, giving them confidence that with the portfolio of varied and validated content they already possess, they can start as they mean to go on in this country in looking to gain serious traction in markets outside of the States.
Who Are DWG?
Since being launched in 2005, DWG have gone from strength to strength in the gaming world, especially when it comes to producing their titles.
Already in their short history DWG have provided hundreds of different titles and for many different companies, some of them being among the biggest in the industry in fact so they are undoubtedly already trusted and we are sure to be seeing their logo around many more British-based gambling sites.
Already around the world, thousands of games provided by DWG are played in casinos and in fact since 2016, they have produced more than 300 titles for their own specialist casinos. These titles have so far been downloaded by over four million people, something that is testament to their success.
With an eye on the future DWG have been expanding rapidly and gaining a licence to operate games for real money in the UK is certainly a major step. They claim during this rapid expansion to never forget the core principle; to concentrate on the game, which is something their players can agree or disagree with.
For sure DWG seem big enough and popular enough to make a major splash in the British market, so we will watch with great interest in the first quarter of 2020 to see who they strike up commercial deals with in the online casino industry.